Articles
AMEB Theory of Music Additional Requirements – some observations and notes One things AMEB students don't know (until they get there!) and even us teachers sometimes forget, is that in the upper exam levels there are additional requirements in theory. For example, if you sit your grade 6 violin and you pass with honours, but have not yet done your Grade 2 Theory (or Musicianship or Music Craft) you will get your lovely comments sheet in the post, but no certificate. You have not actually formally completed Grade 6 until you fulfil your...
read more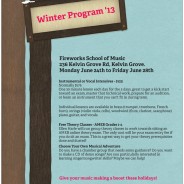 These coming school holidays, for the first time, we are going to offer a holiday program from 24th – 28th June. The plan is to have instrumental and vocal intensives: one 30 minute lesson per day (5 lessons) which will cost $125 (normally $176), and I will also be running free theory classes for any students who want to sit an AMEB online theory exam. I will be opening this up to anyone who would like to do it, but I want to offer the places to current Fireworks students first as due to our limited space there are only about 12 spots...
read more
Buying a piano is a big investment in a number of ways. As well as it being a large financial investment, it takes up a lot of space in your house, and will in all likelihood be with you for a long time! This article is aimed at both adult students and parents with children who have piano lessons. Note also that this is intended only as a guide – certainly talk with your piano teacher about it as your piano teacher will be able to assess your specific needs. There are essentially three main options for you to consider, all available in...
read more
Do you have a primary school aged child expressing an interest in having guitar lessons? Are you at a loss to know where to start in finding them a guitar teacher? Here are a few points to keep in mind that will help to guide you through, and keep your child motivated and achieving for many years to come. Choosing a Guitar There are three basic types of guitar available to you – the six-string acoustic guitar, the twelve-string acoustic guitar, and the electric guitar. The six-string guitar can be used in a variety of styles including...
read more
This term we have been doing a "21 Green Weeks" initiative, trying to incorporate some environmentally friendly processes into our business, one for each teaching week in semester 2 this year. As it is a home business, there are already quite a few green things we are doing – for example solar panels, and energy efficient lighting. But I am challenging myself to find one thing a week that I can do for my business that is good for the environment, or better than what we were doing. I have been posting pictures up on our...
read more